Okay, if you have followed me for very long, you know I love to can. I find it so rewarding to put away delicious treats we have grown for the winter. Our garden for this year is winterized, but it won't be too many months and our garden will be up and going ahead with some yummy Spring vegetables and then fruits.
Something great you can be doing now ( as I type there is snow on the ground from the snow storm that left us without power for 4 days last week) is start thinking about canning this Spring and Summer. Part One of this will be about the Equipment you may need, and then I'll have a Part Two about planning your produce.
If you haven't canned before start musing if you want to. If you do ( and boy is it fun) start looking for your equipment. Depending on what kinds of produce you want to can determines what you may need. Just started out I would recommend just a good old Granny-ware water bath canner like the one below.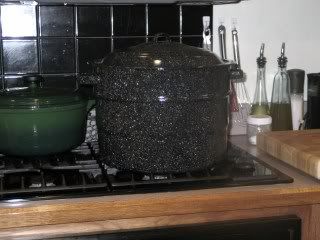 You can buy them from stores like
Lehmans,
Amazon
,
Ball Home Canning
or even mass merchants like Walmart. You may be able to find one at little thrift stores or flea market sales though, so be on the lookout.
I also like to have the jar lifter, lid lifter and the funnel. Those can be bought at the stores listed above, or again you can regularly find them at thrift stores.
If I use the pressure canner ( for things like greenbeans or veggie soup) I normally enlist my momma as she is much more versed in pressure canning. I honestly find green beans fine as frozen or even pickled like as in
Dilly Beans
.
You will of course need jars also. I find these at Thrift stores, or places like Home Depot , Kroger or Target. You could look around on Craigslist also as I have found some advertised there for very cheap. This is something that can be reused each year as long as there are no cracks or chips in it. I know some people reuse the seals, I do not. I find that I get a better seal out of them if I buy them new. It's worth it to me to buy new seals each year if I know that my bounty will be protected even better. The rings or lids I resuse year to year.
When thinking about jars you need to think about what all you are hoping to can, I use pint and quart jars for things like pickles, salsas, soups, and jellies. I tend to use smaller pints and half pints for things I might give as gifts or things we don't use quickly like pepper relish, jellies or jams. Also having a variety of sizes on hand gives you the option to not waste any of your produce. Sometimes I get down to the last of my batch and have just enough for a half pint.
Pressure canners ( as mentioned before) are better for foods that are low in acid and many people use them for things like red meat, seafood, poultry and MOST fresh vegetables with the exception of tomatoes. ( Again this is why you find that I freeze alot of stuff or pickle it).
You can find a lot of great information about pressure canning at
Canning Pantry.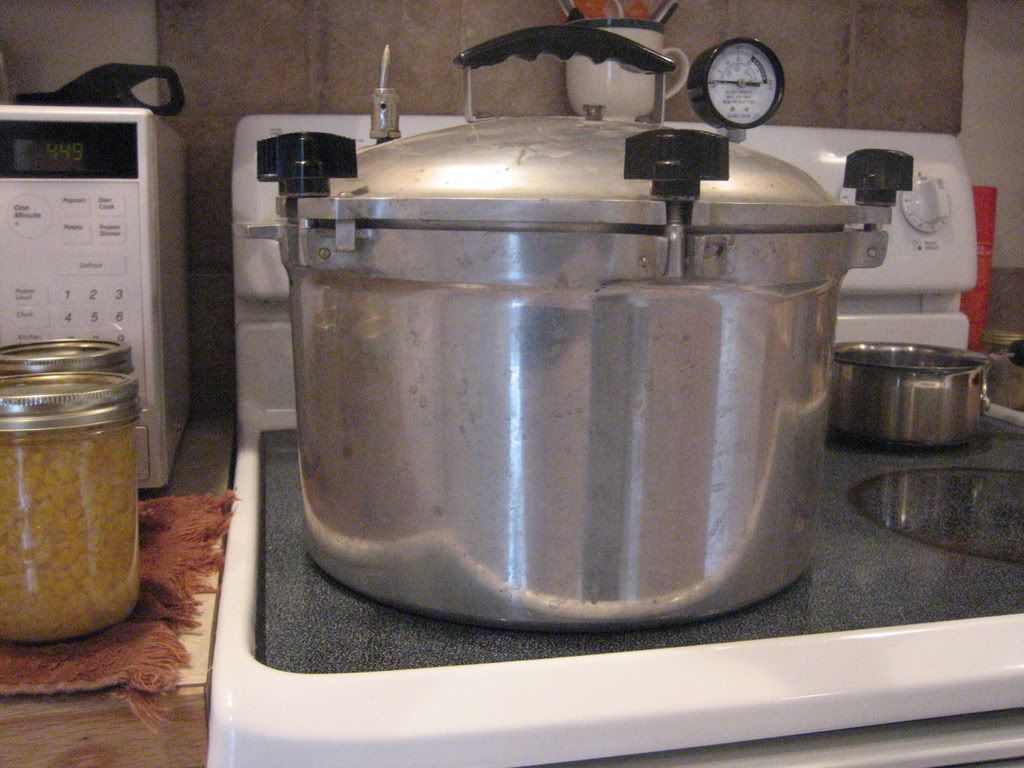 These can be a great asset if you plan to can a lot instead of freeze, or if you just prefer the taste of canned vegetables over frozen. These are a bit more complicated, but you shouldn't be discouraged, you can follow directions and learn how to do it fairly easily.
The last way to can is Steam Canning which I have to admit I don't have much experience with. It is certainly something I would like to learn more about though. The information I found though from the USDA doesn't recommend using it because " steam isn't as effective at transmitting heat through to the center of the jars as boiling water is. It's this heat penetration that ensures both the safety of your product (it kills off any possible contaminants) and the efficacy of your seal." I know some of my readers have used it before and been successful, but like I said I haven't used it and am not sure if I will be trying it anytime soon as long as I'm successful with the other two methods, along with freezing, drying and dehydration.
Well this was much longer than intended. Stay tuned for Part Two which talks about Canning and produce.
Happy Homesteading.......
Linked up to
Monday Homesteading Barn Hop